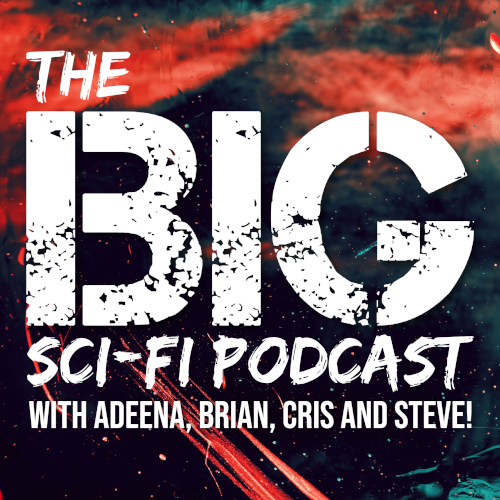 This podcast will go where few sci-fi fans have gone before! OK, not really, but we will have fun discussing and interacting with our favorite shows and films from all over the sci-fi universe. We love Trek the most, but our fandom is much deeper and so we'll dive into all sorts of shows and films. Join our panel of sci-fi fans as we gather from all over North America as we share our opinions and thoughts on all things sci-fi.
Our mission is to entertain and have fun. If you love sci-fi, then this is the perfect station for you to dock at. You'll always have friends on the BIG Sci-fi Podcast!
---
The Trekkies

Adeena Mignogna is a physicist and astronomer (by degree) working in aerospace as a software/systems engineer and manager. More importantly, she's a long-time science fiction geek with a strong desire to inspire others through writing about robots, aliens, artificial intelligence, computers, longevity, exoplanets, virtual reality, and more. She writes science fiction novels, to include The Robot Galaxy Series, and loves spending time with this crew in The BIG Sci-Fi Podcast! Adeena has lived in Frederick County for 20 years, married her hubby in Baker Park, and routinely brings her two kids for walks along the canal.
Brian Donahue is a pioneering pastor within EFC-ER (Evangelical Friends Church – Eastern Region). He started and is currently leading the denomination's first network of house churches. Brian is also a musician, songwriter, and recording artist. He is a lifelong Star Trek fan and didn't realize how much of a nerd he was until he started podcasting about it with the crew of The BIG Sci-Fi Podcast! He lives in Canton, Ohio with his wife, two kids, their golden-doodle, and six chickens.
Cristian Fox is a mediator and conflict resolution specialist by day, as inspired by Captain Picard, and a Star Trek and sci-fi podcaster by night. He talks about Trek and food more than he probably should, but that's part of his charm. Or at least he hopes so. In addition to The BIG Sci-Fi Podcast, Cris also is the host of the podcast, "Yelling About Star Trek."
Stephen Mirkin is a retired 65-year-old who spent 43 years in the jewelry industry. He has been involved in science fiction since he could reach the on/off knob of a TV set. He had been watching Star Trek since September 8th 1966. As a member of the Science Fiction book club in middle school, he learned to appreciate reading the stories of the great authors. He has written articles for WarpFactorTrek and is a proud contributor to The Sci-fi Podcast. He is married to Elaine for 40 years and is father to two wonderful daughters, one who loves Star Wars and the other who prefers Star Trek.